Lakshmi is a character on the MUCK called Sinai. Sinai is a very small group of folks playing mostly "furry" generated characters within a consistent game world background with GMs. As an aside, the GMs are extremely picky about whom they allow to join, since too many players would swamp both them, and the 'flavor' of Sinai. Also, the game is 'scripted,' as in the future of the world has already been planned out. This is, in fact, why I do not play there any more, as I discovered (the hard way) that the actions of the characters made no difference to the pre-determined course of events.
Lakshmi herself is an attractive, healthy 18' red-tailed boa constrictor in her early 20's. However, like many folks with a talent she tends to focus almost exclusively on what she loves most to do -- working with animals. As a Master of the School of Behavior Modification she can most often be found working 'hands on,' dressed with mostly fashion-unconscious practicality.
Were you to see Lakshmi in her daily wear, she'd appear as follows:
Lakshmi's relaxed 18 ft length coils fluidly, with the graceful, smooth musculature of a boa. Flowing in decorative patterns from beneath her rough leather, warmly-lined body cloak are gleaming scales shining mahogany and cerise. Her belly scutes, beneath the muddy smudges of hard work, are a rich and glowing ivory -- this is a boa that isn't afraid of getting her hands dirty. About her waist she wears a wide, well-worn leather belt with several pouches and odd tools. A sturdy pair of leather gloves are tucked there as well. Golden eyes gleam translucent, serenely amused, from beneath her eyelashes.
Lakshmi's indispensible right-hand assistant is a skreek (rat-species) named Skye, and was played by a friend of mine. For more on the adventures of Skye and Lakshmi, please go to the Sinai logs and enter either 'Skye' or 'Lakshmi.'
Skye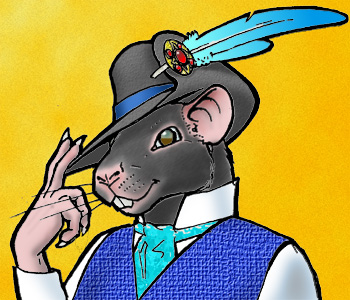 ---
the Character Page.
Lakshmi copyright &copy 2000 B. A. "Collie" Collier